The site
Sandskaer Strandcamping is located right by the sea in Genner bay with a view on Lillebaelt, Barsoe and Fyn. On the west side is a forest, which is perfectly suitable for a nice walk with your partner and dog, but also provides the campground with shelter from the wind. The majority of our 290 camp spots have a view on the ocean.
At the camp ground you will find 2 service buildings with bathrooms and kitchens, a reception with a big kiosk. There is also a play area for the younger ones and a gamer room (x3) for the bigger ones, including a TV/living area. At the square in the middle there is a covered section with corners that have chairs, tables and lounge furniture. Outside of the season it will be possible for you to experience mid summer in our 2 orangeries where you can harvest herbs and vegetables for free.
We have 2 playgrounds to offer; one in the square and one at the beach. The beach is very kids friendly, as you have to go out far before it starts getting deep. On the east side of the ground there is another beach with a jetty, where the water will start getting deeper sooner.
Free Wi-Fi on the entire campground
New wireless Wi-Fi has been installed all over the ground. It is supplied by 2 powerful fiber connections and it can handle over 1500 users at once! Meaning there are endless possibilities to stay in touch with friends and family. This is one of the reasons that many of our guests choose to move their work-from-home to our campground and therefore extend their stay to a longer one.

The host family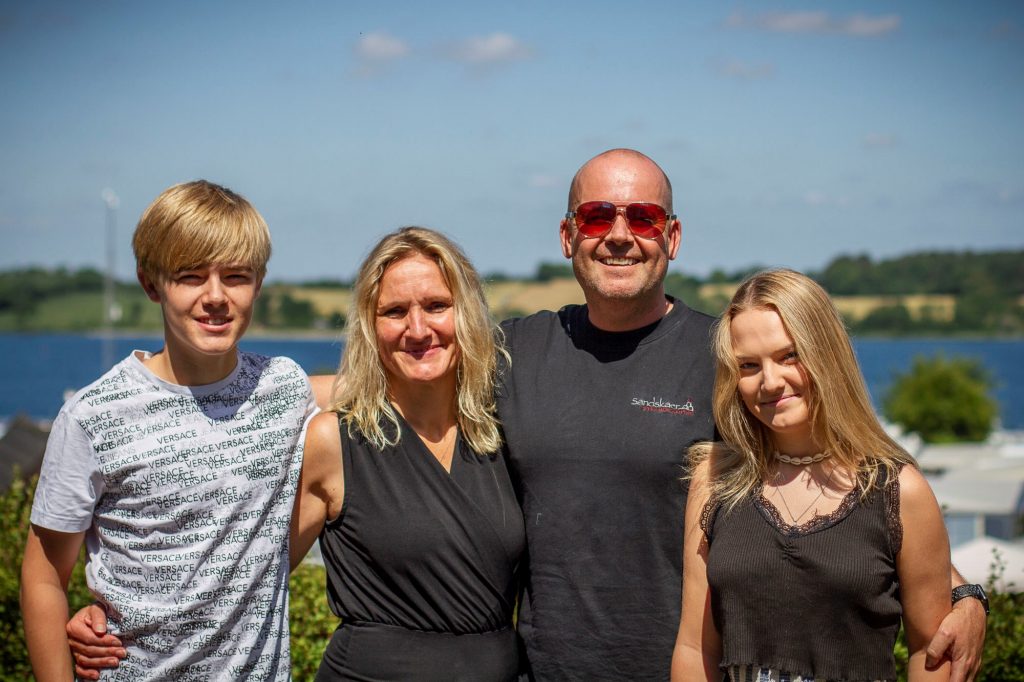 We are an active family made up by 4 people, who will do anything in our power to make sure that you will have an enjoyable camping vacation!
Jesper is commander in chief and will (almost) always be at the ground. Amalie, Karl Emil and Line will on a daily basis be attending work and school, but will often spend evenings, weekends and holidays at the campground.
We have 2 horses and 2 pigs, which are an active part of the square.
Service- quality and experiences are our core values and our motto has always been: "you should laugh at least 3 times a day!"
You will also notice that our kiosk-, cleaning- and service workers will greet you with a smile.
We're looking forward to seeing you enjoy unforgettable vacations and holidays at Sandskaer Strandcamping.
The best camping wishes
Amalie (18 years old), Karl Emil (15 years old), Line and Jesper
Activities
Which activities do you prefer?
At our ground you can enjoy activities such as kayaking, pedalos, Ping Pong, petanque, sailing, mountain biking, electric bikes, games, pat the animals and many others.
The children meet up for games on the bouncy castles and at the beach. Some prefer the nature-playground, which borders on the Fredsskov where "Toef and Pytte" (our charming pet pigs) live as well.
Here you have tons of opportunities for getting together and having fun, both kids and adults. You can take part in many of the events we offer throughout the summer, like café evenings with live music, riding tours, rock-painting, magician shows, bonfires and many more. We want camping to be nice and fun! Take a look at our events and see for yourself what we have planned so far. You can also follow us on Facebook and be amongst the firsts to hear about what else we might come up with.
Facilities
At Sandskaer Strandcamping we wish for you to have a terrific stay, and that is why we do everything possible to keep our facilities in their best possible condition. We care deeply about cleaning and maintenance, which is why we regularly invest in new facilities
Click on the icons beneath to read more about it
Baby room
The baby bath is free of charge
Defibrillator
The Defibrillator is located on your right side of the enterance to the reception.
Fishing room
You are more than welcome to clean out your fresh fish in our fishing room. The "leftovers" are to be thrown back into the ocean
Gaming center
The gaming center is located at Loejt Feriecenter about 100 meters from the campground. The entertainment device only accepts coins.
Kitchen
The kitchen use is free of charge
Laundry
The washer costs kr. 20 for each load (coins only) The dryer costs kr. 20 (coins only)
Mooring and boat slip
Mooring at the jetty can be rented for kr. 30 for 24 hours. We also have boat slips
Playground
We have several playgrounds at the ground; at the service building and at the shore
Reception
We will welcome you properly
Smoke oven
If the fish is supposed to be smoked, we got you!
Store
Bread and rolls can be ordered on the previous day
TV room
Enjoy some company in our TV room
WI-FI
New wireless Wi-Fi has been installed all over the ground. It is supplied by 2 powerful fiber connections and it can handle over 1500 users at once!